Revamp Your Renovation Approach with Prestige Carting, Nassau and Suffolk County's Premier Dumpster Rental Service
Revolutionize Your Renovation Workflow
When embarking on a home renovation, managing the construction debris can often be a daunting task. The clutter of broken tiles, scrapped wallpaper, old fixtures, and other waste can add unnecessary stress to your project. However, with a dumpster from Prestige Carting at your site, you can effortlessly toss away debris as you work. This efficient way of handling waste helps maintain a clean and safe work environment, reducing the risk of accidents caused by scattered debris. Moreover, with our service, you avoid the hassle of pausing your project to make multiple dump trips, thus saving you considerable time and effort.
Discover Dumpster Diversity for Every Project Size
At Prestige Carting, we recognize that every home renovation project is unique and requires tailored solutions. Therefore, we offer many dumpster sizes to meet your specific needs. Our compact units are perfect for smaller remodeling tasks, while our larger containers can handle the waste generated from extensive home overhauls. So what size do you need? Our experienced team is ready to provide expert advice, ensuring you only pay for the required space.
Commitment to Sustainable Waste Disposal
Prestige Carting doesn't just prioritize your convenience; we're also deeply committed to sustainable waste disposal practices. We diligently adhere to all local and state regulations concerning waste disposal in Nassau and Suffolk County. By choosing our services, you're partnering with a company that respects and actively protects our environment. As such, you can complete your renovation project with the confidence that your waste will be disposed of responsibly, minimizing your environmental impact.
Customer Service Excellence: Our Pledge to You
At Prestige Carting, customer satisfaction is not just a goal; it's our business philosophy. We understand that home renovations can be stressful, and the last thing you need is a challenging waste disposal process. Our friendly and professional team is always available to answer your questions, schedule prompt deliveries and pickups, and provide guidance every step of the way. Our commitment is to make your waste management experience seamless, allowing you to concentrate on creating your dream space.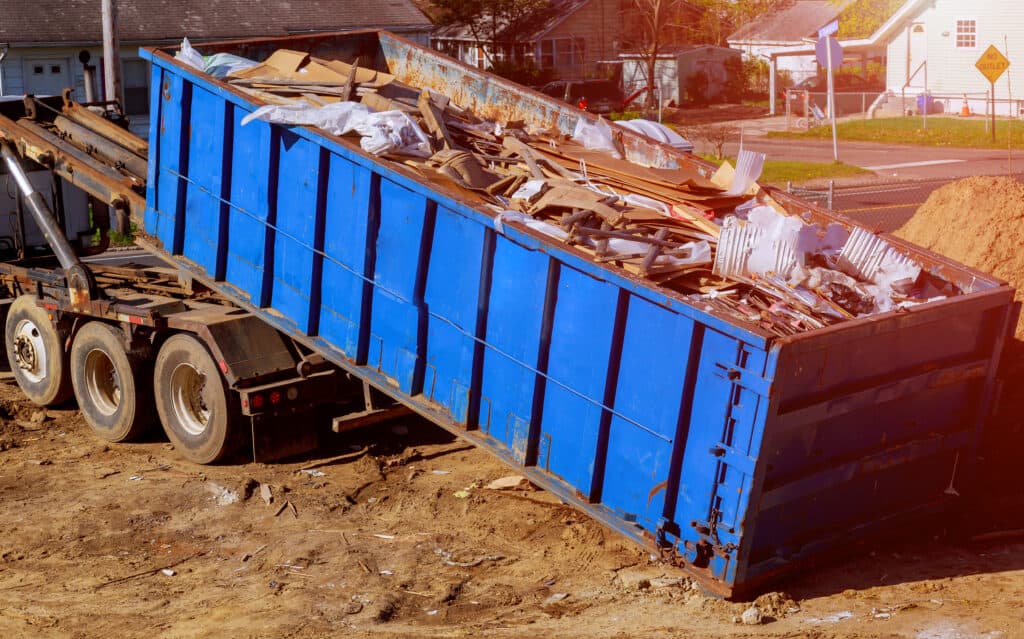 Affordable, Cost-Effective Waste Management
With Prestige Carting, value for money is a guarantee. Renting a dumpster isn't merely about convenience; it's a strategic decision that could save you significant costs. For example, consider the potential expenses for gas, wear and tear on your vehicle, and disposal fees for multiple dump trips. These costs can quickly add up and make your renovation project more expensive than you had initially planned. With our transparent pricing, there are no hidden charges or surprise costs. Instead, we provide a comprehensive waste management solution that helps you keep your renovation budget in check.
Maximize Efficiency and Productivity with Our Dumpster Rental Service
The benefits of renting a dumpster from Prestige Carting extend beyond cost-effectiveness and convenience. It also contributes significantly to enhancing efficiency and productivity during your renovation project. With a dedicated space for waste disposal, your site remains orderly and navigable, which increases work efficiency. As a result, you'll spend less time cleaning and more time focusing on the renovation process itself. Moreover, with less clutter, the chances of misplacing tools or materials decrease, reducing delays and keeping your project on schedule.
Peace of Mind: The Prestige Carting Guarantee
Home renovation projects often have a fair share of anxiety and stress, but waste disposal doesn't have to add to your worries. At Prestige Carting, we pride ourselves in offering our customer dumpster rental services and peace of mind. You can rest assured knowing that we have your waste management needs covered, allowing you to focus entirely on your renovation project. We handle the messy part, so you can revel in the joy of creating a space that truly feels like home.
Elevate Your Renovation Experience with Prestige Carting
At Prestige Carting, we strive to deliver more than just a dumpster. We provide a comprehensive solution to your waste management needs during home renovations, allowing you to focus on what truly matters – crafting your dream home. So, whether you're in Nassau or Suffolk County, consider partnering with us for your next renovation project. Experience the benefits of professional waste management and discover why Prestige Carting is the preferred choice for dumpster rentals.