Streamlining Waste Removal with Prestige Carting
Enhancing Waste Management with Prestige Carting
Effective waste management can often pose a considerable challenge in commercial and industrial projects. That's where Prestige Carting steps in, offering an efficient solution – dumpster rentals.
We have a history of success. We can help you manage your waste removal more effectively. This will ensure your worksite is clean, safe, and meets all regulations.
The importance of comprehensive waste management in commercial and industrial settings cannot be overstated. Responsible waste disposal is crucial, from construction projects and manufacturing facilities to large-scale corporate clean-outs. Not only does it reflect a commitment to environmental stewardship, but it also fosters a safer and more productive work environment.
Choosing the right dumpster rental service can make all the difference in your waste management strategy. Prestige Carting has years of experience in the industry. They are ready to provide a professional service that is tailored to your needs. Additionally, they offer cost-effective solutions.
Quality Dumpster Rental Services for Your Commercial Needs
Prestige Carting's dumpster rental services are a perfect fit for commercial projects of all sizes. Our dumpsters are suitable for any size project. From small business clean-outs to large-scale construction projects, we have what you need. Choose from our versatile selection to find the right dumpster for you.
We offer dumpster sizes to suit any project. Options include 10-yard, 20-yard, 30-yard and 40-yard. This ensures you find the perfect fit. Our team is committed to providing top-tier customer service. We immediately start working when you contact us. We strive to understand your requirements. Our goal is to provide a dumpster rental solution that surpasses your expectations.
Industrial Strength Dumpster Rental Services
Industrial projects often generate vast quantities of waste; managing this waste can become manageable with the right tools and services. Prestige Carting's robust dumpster rental services are designed to withstand the demands of even the most challenging industrial projects.
Our dumpsters have a large capacity. As a result, they are able to manage large amounts of waste. This includes heavy construction debris and bulk waste from manufacturing processes. We ensure our dumpsters are maintained to the highest standards, delivering dependable, high-quality services for all your industrial needs.
Streamlining Waste Removal with Prestige Carting
At Prestige Carting, we don't just rent out dumpsters; we provide a full-service solution to streamline your waste removal process. We understand that every project is unique, and we tailor our services to match your specific requirements.
Choose the right dumpster size for your project. Our team will deliver it quickly to your site. Then, we will position it to make it easy to access and load.
Give us a call when your dumpster is full. We'll take care of the pick-up and disposal. We comply with all local and national waste regulations. This streamlined approach saves you time and effort, letting you focus on the crucial aspects of your commercial or industrial project.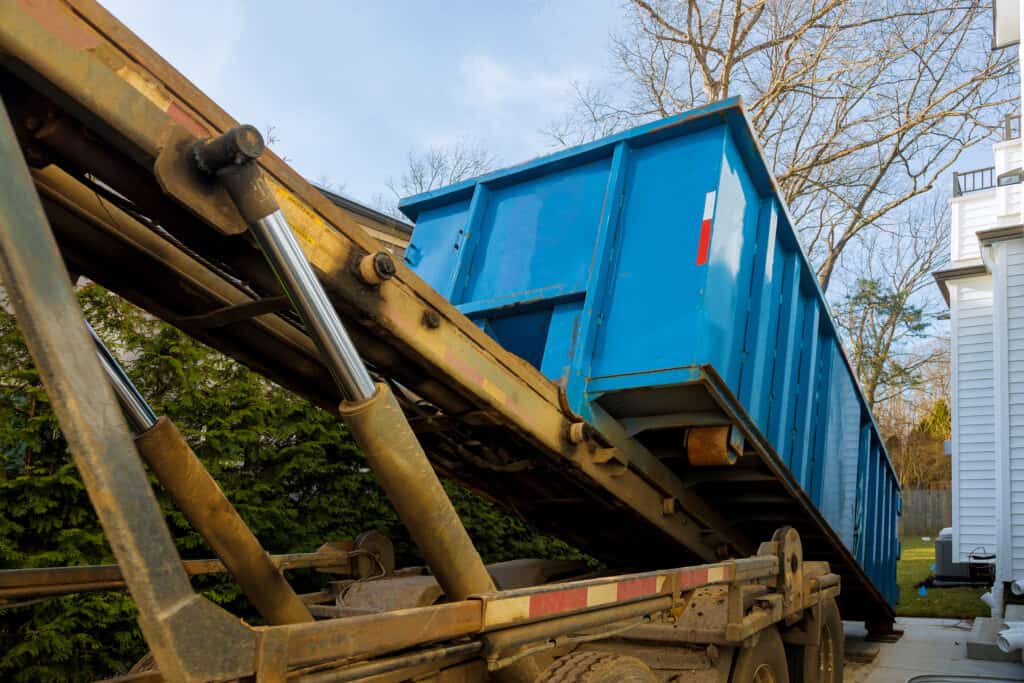 Environmental Responsibility
Prestige Carting is deeply committed to environmental stewardship. We understand the impact of waste on our environment, and we're dedicated to implementing practices that promote sustainability. Choose our dumpster rental services, and you're getting more than just convenience. You're partnering with a company that values eco-friendly practices.
All waste collected in our dumpsters is disposed of responsibly, with recyclable materials separated and processed accordingly. In addition, we work closely with local recycling centers and waste management facilities to ensure maximum waste diversion from landfills.
Adherence to Regulatory Compliance
With Prestige Carting, you can rest assured that your waste removal processes align with all relevant local and national regulations. We strictly follow waste management standards. As a result, our service meets your practical needs and ensures regulatory compliance. This saves you from potential legal complications.
Customized Service, Competitive Pricing
Prestige Carting offers a customized waste management solution at competitive prices. However, we understand that budget constraints are a reality in any project.
We offer flexibility when choosing the right dumpster size and rental period. This ensures you only pay for what you need. Enjoy value-added service without compromising on quality.
Partner with Prestige Carting: Your Reliable Choice for Waste Management Solutions
Prestige Carting is the partner you can trust for dumpster rentals for commercial and industrial projects. We're committed to streamlining your waste removal process, offering quality dumpster rental services tailored to your unique needs. Choose Prestige Carting for expert waste management. This will allow you to focus on what you do best–running a successful business.
Experience the difference in our superior service today. Contact Prestige Carting to learn more about our dumpster rental services. This can make your commercial or industrial project easier, cleaner, and more eco-friendly.